The first-ever direct container service linking China and Scotland has docked at Greenock Ocean Terminal after its maiden voyage – as it prepares to carry more than a million bottles of whiskey to the Far East.
The new east and west freight route from Ningbo, China, arrived at Scotland's deepest container terminal for the first time at 9.35am on Saturday morning.
The service – a partnership between KC Liner Agencies, DKT Allseas and China Xpress – carried imports including textiles, furniture and toys for the Scottish market.
The ship's containers will today be loaded with tens of thousands of cases of whiskey to boost the export market, before it leaves the terminal this evening to return to China.
Jim McSporran, Director of Clydeport at Peel Ports, said: "It is great to finally welcome this vital service to Greenock Ocean Terminal.
"Our terminal is perfectly suited for such a global trade connection, and this is again demonstrated by the large volumes we will help ship to China.
"We believe this partnership will prove to be an extremely positive development for businesses and customers, as well as boosting the wider supply chain, and we look forward to continuing to work with our partners on this service in the future. coming months."
David Milne, Managing Director of KC Group Shipping, said: "We knew China Xpress was a service needed by many industries, but we were still surprised at the level of immediate interest. It has been a phenomenal success for KC Group Shipping, but it is only the first of many voyages and we need the support of Scottish importers and exporters to secure the long term future of this new service.
"Our direct business link with China reduces frustrating transshipment delays, which is a huge boost for Scottish businesses and can only help consumers in these difficult times.
"We'll be toasting the success of over a million bottles of Scotch whiskey being traded from the first ship alone, and we'll raise a glass to all the other businesses who will also benefit.
"I described this as a game-changer for Scotland, and the adoption of the service certainly proves it, for the Scottish furniture, pharmaceuticals, packaging and spirits sectors."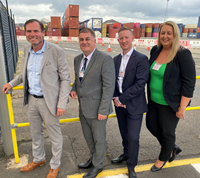 Councilor Stephen McCabe, Head of Inverclyde Council, said: 'The freight side of Greenock Ocean Terminal can often be overshadowed and sometimes forgotten due to the busy cruise ship schedule.
"But the container side of the terminal has also grown significantly in recent years and the new development of the Glasgow area cruise ship reception centre, including the dedicated cruise ship pontoon, has created more capacity. for container ships and passenger ships to foster continued growth. both markets and further stimulate the local, regional and national economy.
"KC Shipping's decision to establish this direct link from Greenock to China – the first in Scotland – combined with the development of the visitor center and the ambitious offer of Clyde Green Freeport is a resounding endorsement of Greenock and of Inverclyde as an important place for exports, imports and visitors and may it continue for a long time.
Direct sailings will significantly reduce transit times, compared to collecting services via mainland Europe or other southern UK ports.
Three crossings will take place per month in each direction, calling at Ningbo, and the Chinese city of Shenzhen, before arriving in Greenock via its "sister" container terminal at the Port of Liverpool.
The route will be operated by six vessels of approximately 1,600 TEU [twenty foot equivalent units].
Greenock Ocean Terminal is currently responsible for safely handling a throughput of 100,000 TEUs per year.
Peel Ports recently announced it would be installing two new cranes on the site in the biggest investment at the container terminal since it opened in 1969.
Peel Ports is a supply partner for Clyde Green Freeport with AGS Airports Glasgow Airport, Mossend International Railfreight Park in North Lanarkshire and a partnership of Glasgow Area Councils.
The multimodal initiative would attract major new investment, expand global business opportunities, create tens of thousands of new jobs, accelerate the net zero targets agreed at COP26, and move the world-class innovation economy from region at the top level.